No Contracts
No Fuel Surcharge
We Come Back For Free
24/7
Service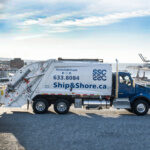 Ship & Shore Cartage Limited is locally owned and operated in the Saint John area. We provide commercial and industrial garbage removal of 2-12 cubic yard containers. We can also provide cart service or hand-picked service. We also do cardboard recycling. We share our customer's commitment to eco-friendly waste disposal.

We provide prompt, courteous service to all our valued customers. We have been serving the people of greater Saint John area for over 45 years. We offer immediate service on a daily, weekly, or monthly basis. Service contracts are not necessary.

We have a 24-hour answering service. Please call, e-mail or fill out the feedback form with whatever waste removal questions you may have. We are here to serve you. We have prompt, courteous pick-up, leaving no mess!
From curb side bins to full sized dumpsters, we offer a variety of product options for your waste removal needs. Our commitment to you is Prompt, Courteous, Efficient Service - Leaving no Mess! Please take a look at our offerings.